On my first cruise earlier this month one of the day trips was a visit to the medieval town of Bruges.  Everyone I told all said amazing things about the place, so I was keen to see for myself just what Bruges had to offer apart from chocolate.
Looking out at the weather it was clear that we weren't in for a sunny day.  As soon as we stepped of the boat the wind nearly knocked us of the quay side.  The journey from the boat to the town took approximately 20 minutes. We were dropped off a 10 minute walk from the Centre of Bruges.  It was a very pleasant walk through a park with a river running through it.
It wasn't long before we came to the cobbled streets and wonderful architecture that Bruges is famous for.
For the whole day I literally didn't put my camera away.  At every turn there was something to photograph. Bruges, as you can imagine, is a very tourist hot spot.  But whilst there were certainly lots of people you were still able to move around easily.
We did visit a couple of the churches but they were having restoration work carried out so we only admired others from outside.
In Bruges there were a number of one way systems and I didn't see as many cars as I did riding bicycles.  There were also lots of horse drawn carriages which the tourists were enjoying.
It is often said that in America there is a coffee shop on every corner, well in Burges there seems to be a chocolate shop at every corner.  Granted some are better quality than others, but I did find a few good quality ones and indulged in some treats for myself as well as for presents.
In the main square there were lots of places to eat, but I was keen to find somewhere independent with lots of character and not so commercial.  We chose one of three streets in front of us and soon came across a lovely little tea room & restaurant.  It was just the kind of place that I had in mind.
It wasn't very busy when we first entered, but it soon filled up which showed we'd made a good choice.  We were only going to have a coffee, but when in Bruges you can't not indulge in something chocolaty.  So we all had waffles.  Dad and I had Belgium chocolate and vanilla ice cream.  Mum and her sister had cream and Belgium chocolate.  The waffles were crispier than we had anticipated, but with the addition of the toppings they soon softened.  The coffee was wonderful and the sort of coffee you only get in Europe. The service was prompt and friendly.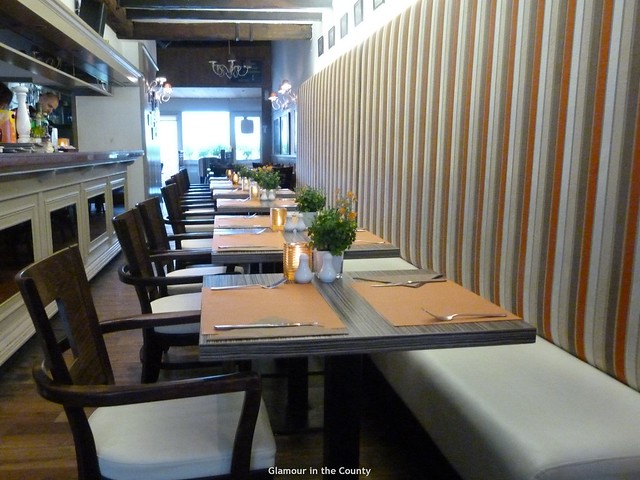 After this delightful pit stop we continued out onto the street to explore more of Bruges.  We came across a couple of wonderful patisseries as well as lovely boutiques.  If I wasn't focusing on the architecture as well as trying to stay warm, I might have had a little shopping spree.
Bruges is a fairly large city and so you do cover a lot of ground and everywhere is cobbled.  So if you are planning a visit do wear sensible footwear.  I had thought we'd take a boat ride on the canal but I decided against it due to the weather and time was against us.  Something to do next time I visit.
I really enjoyed Bruges.  It has the continental European fell that I love.  It's really got me more excited about my forthcoming trip to Paris.
For more photos of Bruges visit my Facebook page.
I've put on my…….rose tinted sunglasses