It is no secret that my heart belongs to the Cotwolds, however a rival has come on the scene.  A couple of weekends ago we spent a gloriously sunny Saturday taking in the splendour of Oundle in Northamptonshire. With it's golden stone you'd be forgiven for thinking you might well be in the Cotswolds.
I stumbled upon Oundle a couple of years ago when I took a wrong turn trying to find The Chequered Skipper in nearby Ashton.  It was so pretty that I knew I needed to return and have a good explore.  With the discovery of their food festival it made the perfect excuse to finally pay a visit to this ancient market town on the River Nene.
The A14 doesn't make for the most pleasant of journeys, but it was the quickest route. In little over an hour we were heading past the quaint Georgian cottages towards the market place.  This is what captured me, when I made that wrong turn, and who wouldn't fall for these honey coloured buildings.  Oundle School, we discovered, occupies alot of the property in this market town. I imagine in term time it can get quite busy with children rushing to lessons.  The buildings, and cottages are a superb example of Georgian splendour.
The food festival occupied the whole of market place.  There were the usual stalls selling jams, chutneys, cheese, cakes, oils etc as well as street food. Food festivals are a great way to find new independent produces. There was also lots of different entertainment on display throughout the day. It's always nice to see something a bit more healthy available to eat and we enjoyed paella for lunch.
Walking around you couldn't help but notice the knitted coverings for the lamp posts, pillars, plant pots and bus shelters.  It's all down to the annual Oundle Great Yarn event. This added to the uniqueness of the Oundle Festival.
It was soon time for a coffee break. We came across a fabulous artisan tea and coffee shop called Brewbabu.  If I lived in Oundle, this is where you'd find me every weekend.  It's the kind of space where you could easily while away a morning or afternoon.  We ordered a Columbian coffee and banana milkshake. Still full from our paella we weren't ready to indulge in the wonderful food on offer. Although looking at the afternoon tea, which a group of ladies were enjoying, it's definitely something I'd like to try.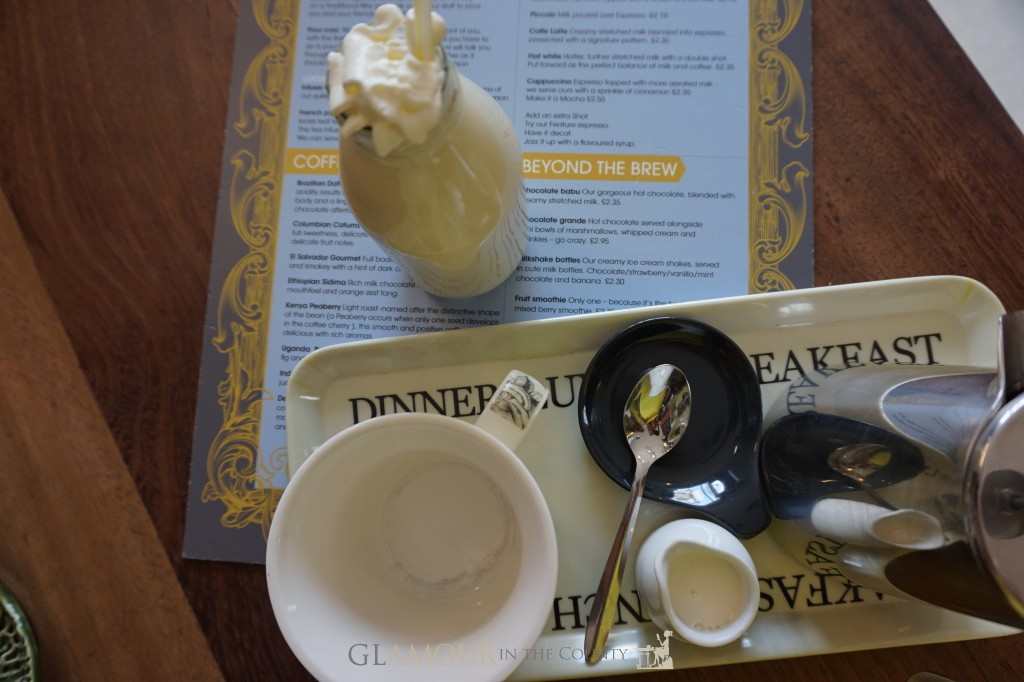 There was still lots to explore as we walked around this delightful market town taking in more of the glorious buildings.  The charm is extended to the array of independent shops and cafes, which always gets my vote.
We enjoyed our visit to Oundle so much we're planning to spend the weekend and explore more of the local area including Stamford, Oakingham and Burley House.
Have you visited Oundle? What did you think of this charming town?