The anticipation had been building, for many months, and finally I made my first trip to Paris last weekend. Having talked to friends and read lots of blogs I felt fully informed about what to expect and what I should do. Pippa and I had an early start from London which saw us at St Pancreas before 7am.  There aren't many things that would get me up so early, but as soon as the alarm buzzed at 5.30am I was up and raring to go. One stop on the tube and we were grabbing coffee en route to the Euro Star.  I hadn't expected airport like security but it took less than 10 minutes, we could even take our coffee as they had cup holders for them to go through the scanners. Small things but great detail!  At the top of the travellator was the Euro Star.  The journey took us just over two hours and we were only in the channel tunnel for less than 15 minutes.  Much shorter than I had expected. Before I knew it we were travelling through the French countryside en route to Paris.
On arrival at the Gare Du Nord we popped across the street and had what would be the first of many cafe au lait and to people watch.  The Gare Du Nord is an impressive train station.  It gave us the first glimpse of what to expect from the Parisian architecture.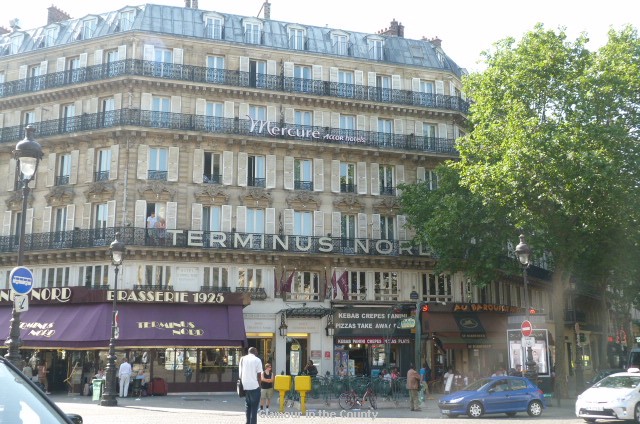 We caught the metro, to our hotel, which works very much like the American underground system. Even so, it was a little confusing, at first to work out, but we soon got to grips with it.  It was another 45 minutes before we located the road our hotel was on and it couldn't have been more perfect.  Situated off the Ave MacMahon we were metres away from the Arc de Triomphe.
We'd chosen an independent boutique Parisian hotel, Hotel Riviera Elysees, and it was just as was described.  It couldn't have been more perfectly Parisian, I loved it!  I was beyond excited when I saw that we had a Juliet balcony.  I'll take you on a tour, soon, of our little Parisian home from home.
Not only was the hotel perfectly situated for all of the major sights, but there were a couple of local cafe/ restaurants and a patisserie at the end of the road.  All of which we used during our stay.  Even though we were in the centre of Paris the area had a distinctly local feel about it and we got an insight into Parisian life whilst we were at our favourite local restaurant L'arc.  We used this most days including the first day for lunch and at night time, on the way home, we'd stop off for coffee.  Everything about the place was wonderful, the staff were friendly and even helped us negotiate our school girl French.
Added to all of this the weather was just perfect for exploring Paris in the summer.  We were blessed with temperatures of between 27 – 35 degrees. Pippa and I had devised our itinerary before we left for Paris. Having brought a Museum Pass from the Paris Tourist Office we were all set to explore Paris. Over the course of four days we took a City Bus Tour as well as visiting the Eiffel Tower; Musee du Louvre; Notre Dame; Latin Quarter; Jardin des Turileries; Jardin du Carrousel; Jardin Du Luxembourg; Bastilique Du Sacre Coeur; Monmartre; Arc de Triomphe; Seine river cruise and walked along the Seine at night.  As well as exploring the streets of Paris in between times.  We had wanted to go to the Palace of Versailles, but the metro let us down the day we had planned this.  Rather than write about everything in one post, I'm going to write a few posts so that you get more of an insight.  But for now here are a few photos of Paris to wet your appetite.
The big question did Paris capture my heart? It certainly did and it feels great!  Next time I'd like to visit in the autumn or spring, just to see what Paris has to offer during the different seasons.  No one has to tell me that I see the world through rose tinted glasses, I know this to be true, and Paris was no exception.  I thought I would see lots of Parisian chic, the reality was I saw a handful of chic men and women, but enough to lift my heart that it can be found.  One has to remember that Paris is visited by over 27million tourists a year, so to find the real Paris you have to be prepared to explore.  And we did find pockets of the real Paris and what a delight they were. Of course the Palace of Versailles is on the list for next time, plus I would also like to explore Paris as a local. Finding the independent restaurants and coffee shops I have been reading about as well as visiting places that the Parisians do.
For now though I am happy to relive my first Paris trip and to provide you with some insights if you are looking to visit the City of Light.
Paris…….je t'aime!