Last month I spent a glorious weekend, visiting with my close friend, in Norfolk.  Having met at college I've been visiting for many years but we are always looking for something new to experience.  We are still amazed at how many places in and around North Norfolk that we still haven't visited.  I put a tweet out to see if there were any suggestions as to what we could do.  The lovely Katy Truss told me about a new event at Houghton Hall called Houghton Revisited.  We'd visited Houghton Hall a couple of years ago and really loved the place.  Being within an easy travel distance, for an afternoon out, we decided to pay another visit and explore this new event.
Houghton Revisted is an exhibition of the Walpole masterpieces from Catherine the Great's Hermitage. It was one of the most envied picture collections of eighteenth-century Europe which include paintings by Ruben, Poussin, Rembrandt and Van Dyck.  The current Marquess of Cholmondeley has spent over three years on the project to bring the original paintings back to Houghton. Using the original plans, of where the paintings would have hung, each has been put back in place.  I still find it remarkable that these kinds of documents were kept, but how wonderful that they are.  For the first time in over 230 years visitors are transported back to the eighteenth century when Sir Robert Warpole, Britans first Prime Minister, decided to settle in Norfolk and surround himself with treasures.  The paintings were sold piecemeal, in 1779, by Catherine the Great of Russia which prevented them from being seen together, until now.  We weren't allowed to take photographs of the paintings, but what struck us were that some of the faces looked very modern in their structure and could have been painted today rather than in the eighteenth century.
The rest of Houghton Hall is just as impressive.  On the first visit, and this second one, I'd have to say my favourite space is the stone hall which my friend says reminds her of Greece.  If this was my space I'd have deep filled purple velvet sofas placed around the fire.  Even though the space is dominated by stone and marble I could see lots of cosy winters nights huddled in front of the fire.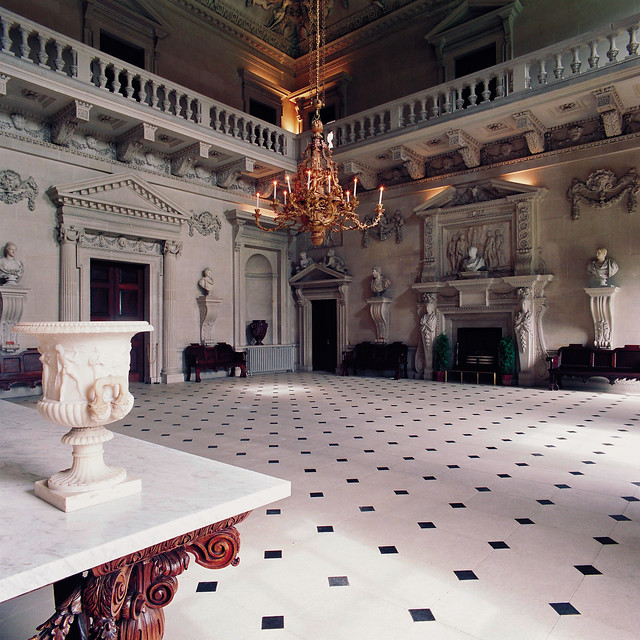 I also adore the red salon I think this would be perfect for afternoon tea and champagne parties.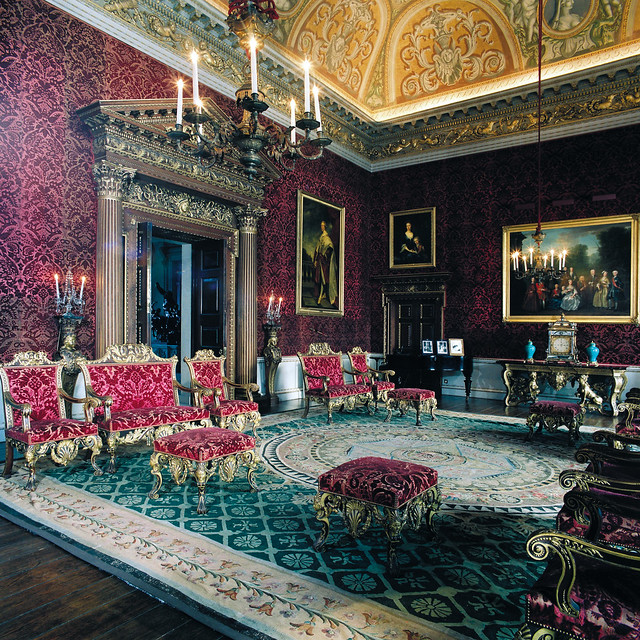 There is an amazing chandelier in the Carlo room although I wouldn't like to be responsible for cleaning it.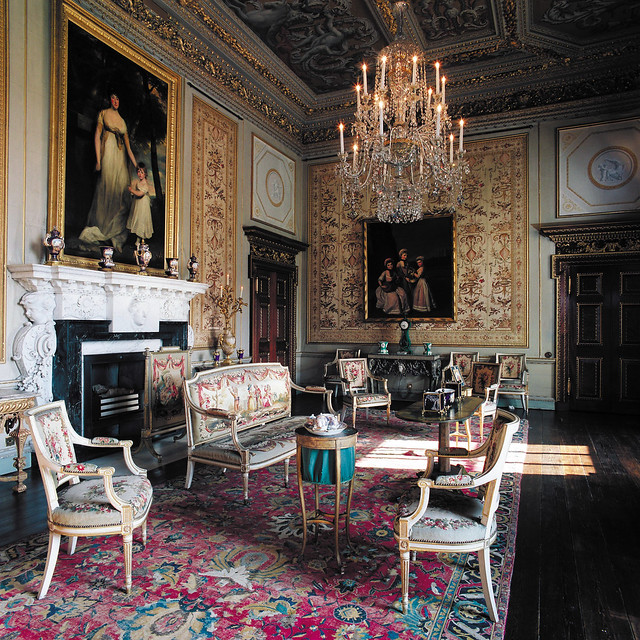 The embroidery in the embroidered bedchamber looks very 3D and is truly exquisite.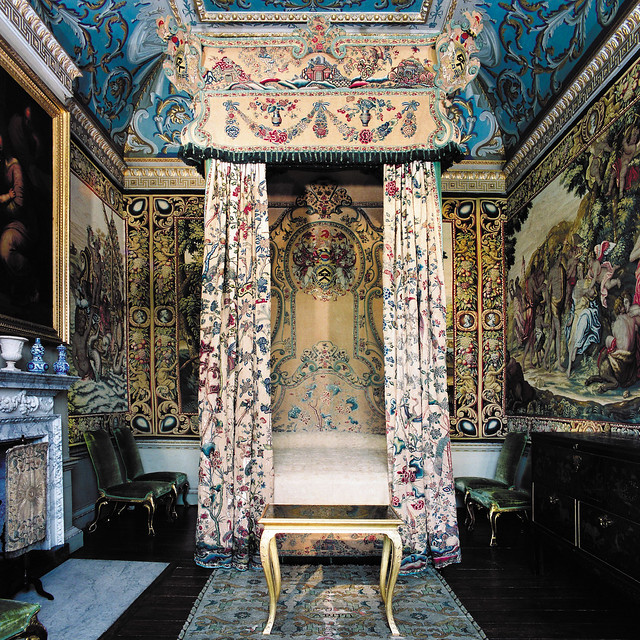 The grand staircase is one of those wonderfully wide ornate staircases which is surrounded by grisaille pictures in frames as if they were actual real paintings hanging on the wall.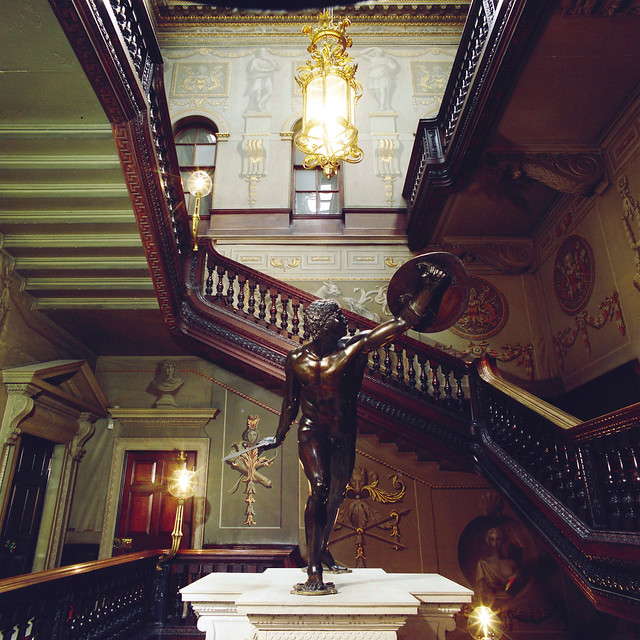 The library is the kind of library you could spend hours in pouring over the books and staring out of the window.  I'd definitely have to re-arrange the furniture so that I could look out of the window at the fantastic view.
After marveling at the interior of Houghton Hall we wondered outside into the sunshine and took a walk through the walled garden.  From the historic houses that I have visited Houghton Hall is the most impressive walled garden and the best kept.  The different themed areas all work really well together and I even came across a Warwickshire plum.
As you approach the Hall there are white fallow deer roaming freely on the grass.  They are beautiful against the other rare deer species that are also resident.
Houghton Hall joins Highclere Castle and Chatsworth on my list of my favourite historic houses. It costs £18 to view the house and the gardens, but you can just visit one or the other.  We were impressed by the small booklet that we were given when we entered.  It had a good background to the Hall as well as information on each room.  The paintings for the exhibition were all numbered with descriptions and placings. All very helpful in finding your way around this most exquisite historic house.  What I also love about Houghton Hall is that it is all accessible for those with limited mobility or in a wheelchair.  All the state rooms are accessible as is the garden, which is not always the case in historic houses. There is fantastic customer service, from the volunteers, for those who do need a little help in getting around.
Houghton Revisted it is on until September 29th 2013.

* interior photos of Houghton Hall are from their website as you can't take photos inside.