So you'll remember from Behind the Scenes of Saturday Kitchen and Saturday Kitchen Omelette Challenge that I spent a morning with James Martin.  As well as watching the programme being filmed and taking part in my very own omelette challenge, I also interviewed James.  There were so many questions that I wanted to ask that five minutes was never going to be enough.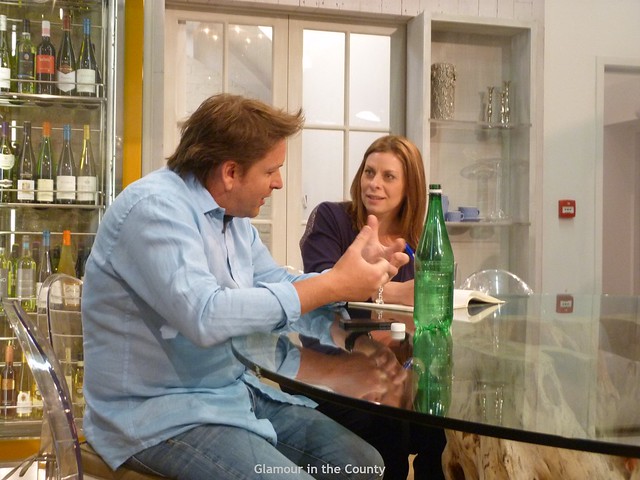 After a bit of joking about my Moleskin notebook looking like one of James's old school books, I talked to him about his passion for baking, filming his TV shows and of course racing cars.
Do you have a favourite memory of Saturday Kitchen?
The best guest I've had on the show was the legendary Jackie Collins.  Amongst all of the guests, she has provided me with some of my favourite moments to date. I also enjoy having all the chefs on the show.  It's great that I can get to taste their food without having to globe trot to visit their restaurants.  This must be one of the the best chefs job as I get to learn new tips and techniques from the best in the industry, including Michel Roux snr.
Do you feel your dicing with death every Saturday with the omelette challenge?

I'm immune to eggs. I don't eat them at all.  Some of the omelettes are pretty ropey (at this point he hadn't seen my effort!).
What was your favourite part of filming United Cakes of Amercia?

It was great to be able to get out of the UK and film, those opportunities don't come around often. American people love to be on camera, so it was easy to film there as, they all wanted to be stars.  The Amish community really fascinated me.  How they strive to survive in their simple way against the backdrop of the modern world is just amazing.
You always refer to your Grandmother as your baking inspiration, what recipe of hers do you often bake?

I'm always baking my Grandmother's genoese sponge, although I make it slightly differently to her, it is still based on her recipe.
You've said olive oil runs through one vein and motor oil through the other – if you had to choose which would it be?

It started with food and it will end with food.  I love my racing, but my bum is too big for the cars (for the record ladies it isn't!).  I enjoy the release that comes with racing.  I race every weekend, I love it, it's fun! I still spend time at my restaurant each month.  I find that people are surprised I'm there, but I like being in the kitchen it's vitally important and I love the camaraderie with the team.  Don't get me wrong, I love the TV, but being at the restaurant 4/5 days a month is important.  I'll have been with the BBC for 20 years next year, that's something I'm  proud and pleased about.
They say time flys when you're having fun.  I could have, easily, spent another hour interviewing James.  He was so easy to talk to and clearly passionate about everything he does.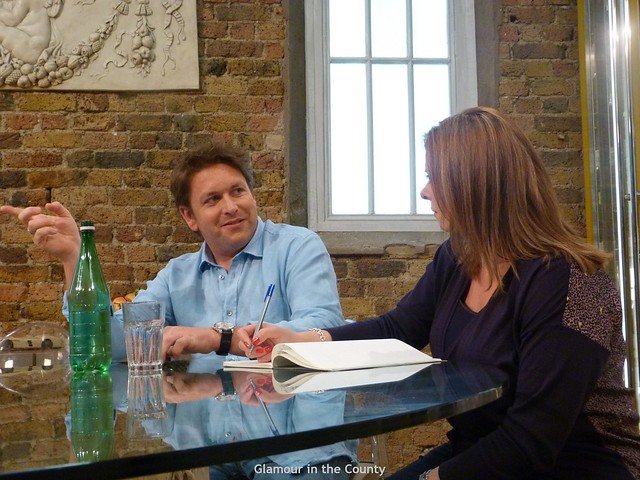 If you're also a fan of Saturday Kitchen you can soak up the Saturday Kitchen experience at the Summer BBC Good Food Show at the NEC, Birmingham.  Hosted by James Martin, this live edition of the Saturday morning treat will include Food Heaven and Hell, recipe demonstrations and of course celebrity guests and wine experts Peter Richards and Susy Atkins! Guest Chefs will include the legendary Tom Kitchin and Theo Randall plus surprise celebrity guests. Don't forget you can use my exclusive discount code GC15 to get 15% of standard price tickets for the summer show.
Saturday in the kitchen with James Martin……yes please!