Are you dreaming of Spring?

This time last year I visited Baddesley Clinton, a National Trust Property in the heart of Warwickshire, approximately seven miles from historic Warwick.  The primary reason for visiting, the fabulous display of snow drops which herald the first signs of Spring.  The weather was certainly a lot different than it is this year.  We were at the start of some unseasonably warm weather, which was lovely as it meant the snowdrops were bathed in sunshine. Whilst remembering this, it occurred to me that I haven't yet told you about the 13th century moated manor house at Baddesley Clinton.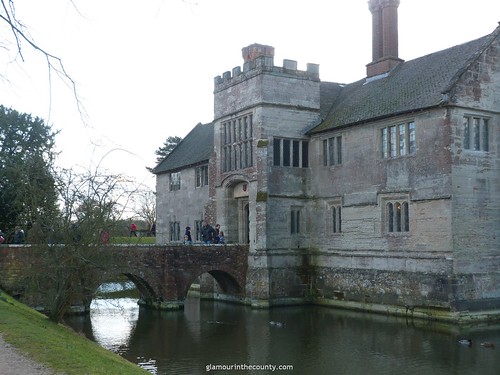 Even though Baddesley Clinton is virtually on my doorstep, I had never visited before.  We were given a time slot so after viewing the snow drops and having a walk around the lake, we ventured into the house.  This small manor house is situated in the middle of a moat and so to reach the house you have to walk over a small bridge and through into the court yard.  The house is built from Arden sandstone which was quarried in the grounds.
From the outside it looks deceptively small, but once inside the ceilings are higher than expected and the rooms just seem to go on forever.  Upstairs the floor boards did creak a lot, but then you would expect that.  The corridors upstairs were quite narrow and it was difficult to pass people.
I loved the stain glass windows, of which there are many, with the sun streaming through they looked fabulous.
One of the rooms in the house holds a mystery, in that it is said there was a stabbing near the fire place.  There is a mark on the floorboards where it is said the victim bled.
The Ferrers family lived in the house for over 500 years, until 1940, when the house was purchased by Thomas Walker a relative of the family who changed his name to Ferrers.  His son who inherited it in 1970 sold it to the NT in 1980.  What's nice as you explore the house, is that you can see the imprints left by each owner from the 13th century right through to the 20th century.
Whenever I visit period houses, my imagine runs wild and I try and think what life must have been like for the original inhabitants all those years ago.  The Ferrers sheltered catholic priests and you can see many of the priest holes which lead to secret passages.
I really enjoyed my visit to Baddesley Clinton, you could easily spend the day here, looking around the house, garden and taking a lakeside walk.  There are also walking trails around the estate and surrounding countryside.
More photos of Baddesley Clinton on my Flickr
Enjoying historic houses and gardens…….in the English countryside!
Lula Belle x