Can a city loose it's sparkle?
I was really looking forward to coming back to New York City (NYC).  It has been nearly four years since I last visited, that time it was winter, just before Thanksgiving, so everywhere was getting ready for the holiday season and so feeling very festive.  On that trip I did quite a lot of the things I had always wanted to do including visit the NYC Library, skating and a carriage ride in Central Park, visit the Empire State Building and Statue of Liberty and shop on 5th Avenue especially at Tiffany & Co.  So this trip was about the things we hadn't done previously and it was all planned around being in NYC for, American Independence day, the 4th of July.  Having come from
Washington D.C.
where the streets weren't very busy, we felt the contrast with the hustle and bustle of NYC. I'd forgotten just how busy it is, even compared to London.  
With four and a half days to fill we had planned what we wanted to do, which we thought would include fantastic 4th of July celebrations.  Our hotel, the Hyatt,  was well positioned next to Grand Central Station. Mine and SBA's room over looked the side of the station, I love to people watch from high above and watch the yellow cabs drive through the City. Due to the location of our hotel, we did walk most of the time, only using the underground to get to lower Manhattan.  I love the buzz of Grand Central Station, it is one of my favourite buildings in NYC. People had said the underground was a little complicated, but we found that it worked on a similar colour coded system to Washington D.C. so as long as you know the name of the end destination you can work out which train to get on.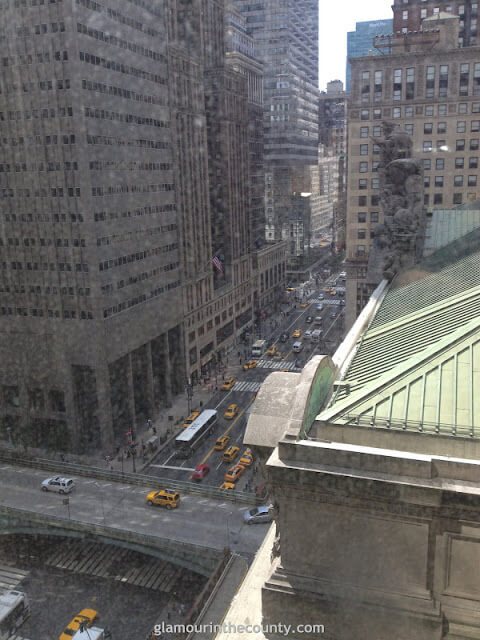 We divided NYC up into upper, central and lower Manhattan.  This worked out well for planning our sightseeing and shopping.  On the list of things to do were Greenwich Village, Katz's Deli, 911 Memorial, ride the Staten Island Ferry and walk the Brooklyn Bridge.  I also spent the day in Central Park, visited the Frick Collection and shopped on 5th Avenue.   
As mentioned previously, we had already looked to see what was happening on the 4th of July and we were looking forward to the Macy's fireworks.  This was the biggest disappointment of the holiday!  Not only was there nothing else going on during the day in a city as large as NYC, but one of the fireworks barge didn't go off and of course this was in front of 42nd street where we were standing.  The photo below is all I saw. 
NYC is still one of my favourite places and I would recommend anyone to visit.  It was lovely to do some of the things that were still on my list to do, but for me it seems to have lost a little of it's sparkle. SBA thought the same and for two people who love NYC it was a little disappointing.  Maybe it was the time of year, it was in the high 80's/ 90's most days and so sightseeing was made arduous due to the heat.  I think Spring/ Autumn or Winter are better times to visit.  Having now seen and done the things on my NYC hit list, I don't have any plans to come back in the immediate future, but I am sure I will be back one day.
New York City……..the City that never sleeps!